Center for Continuing Formation, St. Mary's Seminary and University Baltimore, October 27-28, 2002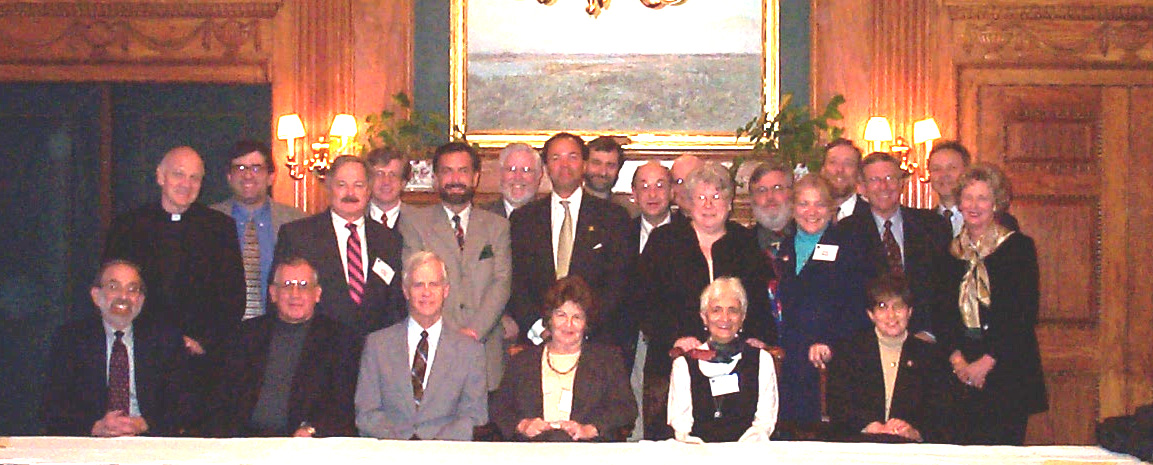 On October 29, 2001, representatives of institutions devoted to Christian-Jewish relations gathered in New York City to organize the CCJR.
Seated (l to r): Barry Cytron, John Pawlikowski, Franklin Sherman, Judith Banki, Gemma Del Duca, and unknown guest.
Standing: Donald Clifford, Charles Arian, Michael Cooper, Friedhelm Pieper, David Rosen, Philip Cunningham, Sandy Cloud, Laurence Edwards, Eugene Fisher,
Lawrence Frizzell, Audrey Doetzel, Peter Zaas, Racelle Weiman, Peter Pettit, Michael Signer, Hanspeter Heinz, and Margaret Obrecht. Photo by Eric Greenberg.
Sunday, October 27, 2002
4:00 p.m. Arrive, register, settle into rooms
4:30 Reception
5:30 Dinner
7:00 Business meeting: report on membership, election of officers,
election of Affiliate Members and Liaison Representatives, etc.
8:00 Panel – "How It Looks from Here" (reports from selected Centers)
The View from Baltimore – Chris Leighton
The View from St. Paul – Barry Cytron
The View from Loudonville – Peter Zaas
9:00 Adjourn
Monday, October 28, 2002
9:00 a.m. Dabru Emet: Sic et Non
David Berger and Michael Signer
10:00 Break
10:15 Opening of the discussion to the entire meeting
11:15 Distance learning in Jewish-Christian relations: a demonstration
Edward Kessler
Director, Centre for Jewish-Christian Relations, Cambridge, England
12:00 Lunch
1:00 p.m. The future of our work together
International perspectives – Friedhelm Pieper and John Pawlikowski
New directions, possibilities for collaboration, etc.
2:00 Adjournment