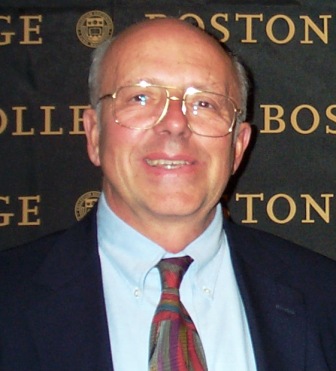 CHESTNUT HILL, Mass. (November 2013) — Boston College Theology Professor Emeritus Donald Dietrich, chairman of the Theology Department from 1991 to 2000, died Nov. 16, 2013. He was 72.
Dr. Dietrich was an internationally recognized scholar of the German Catholic experience, Christian-Jewish relations and the Holocaust. He was the author of Human Rights and the Catholic Tradition; God and Humanity in Auschwitz: Jewish-Christian Relations and Sanctioned Murder, and Catholic Citizens in the Third Reich: Psycho-Social Principles and Moral Reasoning. He also was the editor of, or contributor to, numerous publications, including Christian Responses to the Holocaust: Moral and Ethical Issues, Priests for the 21st Century, The Legacy of the Tubingen School: The Relevance of Nineteenth Century Theology for the Twenty-First Century, and Anti-Semitism, Christian Ambivalence and the Holocaust. In addition, he wrote well over 100 book reviews.
"Don was a warm person with a great deal of wisdom," recalled Theology Professor of Jewish Studies Rabbi Ruth Langer, associate director of the University's Center for Christian-Jewish Learning. "He hired me and mentored me in my early career. He was an extraordinarily effective chairperson who knew how to get things done. He was very much involved in the founding of the Center for Christian-Jewish Learning and very encouraging as the center developed. Even after he was no longer chair, he was very supportive of our work."
Dr. Dietrich served on the Committee on Church Relations and the Holocaust at the US Holocaust Memorial Museum in Washington, DC. His professional affiliations included membership in the Church History Society, Catholic Historical Association, and Catholic Theological Society of America.
Dr. Dietrich joined the Boston College faculty in 1989, after 20 years on the faculty at the University of Wisconsin-Stevens Point. Originally from Buffalo, Dr. Dietrich earned a bachelor's degree from Canisius College. He received a master's degree and doctorate in modern German history from the University of Minnesota.
At Dr. Dietrich's retirement reception in May, Walsh Professor of Bioethics Rev. John Paris, SJ, reflected on Dr. Dietrich's tenure as chair noting that he held that role with "poise, equanimity and a seemingly unflappable demeanor" and that he was "devoted to making Boston College an outstanding center for theological scholarship and teaching."
In addition to his teaching and mentoring, Dr. Dietrich was a "first rate scholar," according to Fr. Paris, delivering lectures at Oxford and in London, Madrid, Leuven, Aalborg, Berlin, Graz, Utrecht, Haifa, and Vancouver.
Fr. Paris and Dr. Dietrich were friends for more than 20 years, having lunch together every day and sharing summer vacations in Wellfleet. He called Dr. Dietrich a "gracious companion" and their decades as friends and colleagues a "marvelous, memory-filled experience.
"Of all my memories of Don Dietrich at Boston College the most vivid—and most memorable—was presiding over his wedding to Linda. At Boston College, Don found not only scholarly achievement and administrative success, he also found and wed the love of his life," said Fr. Paris.