[Adapted from ecumenist.net]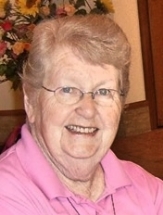 Sister Katherine MacDonald, or Sister Kay, was born and educated in Saskatoon. She earned a B.Ed. and a BA in History and English at the University of Saskatoon, and an MA from St. Louis University in Missouri, as well as studying theology and spirituality at Fordham University in New York.
Sister Kay's working career began as a teacher. She served as principal at Sion Academy in Saskatoon and a high school in Edmonton before being called into international service by her order, the Sisters of Sion.
MacDonald joined the Sisters of Sion in 1949 at the age of 18 "because I felt a real desire to serve God and the Church with my life. There were several options for doing that. I chose the Sisters of Sion, an international group founded in France around 1848 to express through their lives and prayers, God's love for Jewish people."
Before Vatican II, that expression came largely through teaching in Catholic schools, but MacDonald says the Second Vatican Council brought the realization there were many other ways of expressing that mission, namely working for reconciliation between Christians and Jews.
In 1970, MacDonald was elected to the General Council of Congregations in Rome. "In secular words, I was named to the executive committee that directs and follows the life of the Sisters of Sion and their service internationally. I lived in Rome for 16 years. After five years there, I was elected Superior General, or head of the group that oversees about 1,600 sisters in two dozen countries."
The position involved travelling to many parts of the world where she witnessed first-hand the struggle for justice and unity caused by breakdowns in mutual esteem between different groups.
It was during her time as Superior General that Sister Kay became involved in the International Council of Christians and Jews.
"I saw enormous growth within that group in challenging anti- Semitism, building relationships and producing theological documents that are the underpinnings of the organization," she says. "And I made a lot of friends."
That involvement led to MacDonald being sent to Montreal in 1986 to serve as associate director of the Canadian Centre for Ecumenism. She was put in charge of Christian-Jewish and multifaith relations.
Four years later she was called to Jerusalem to be congregational leader for the Sisters of Sion working in the Mediterranean countries. She arrived five days before the invasion of Kuwait and the outbreak of the Gulf War.
"For the first time in my life, I was in a country that had an extremely high possibility of being attacked," she recalls. "I found myself stunned with the reality that many people live with on a daily basis. We endured SCUD missile attacks in a sealed room.
"I did half of my work in Ein Karem, a small village on the edge of Jerusalem where the house was filled with Israelis seeking shelter. The other half of my time was spent at a residence in Old Jerusalem that was filled with Palestinians who were used to finding shelter there in times of war. I felt the fears and anguish from both sides."
While in Jerusalem, MacDonald continued to work in inter-religious initiatives, developing good ties and mutual respect among different religious groups.
In 1997 she returned to Canada, and at her own request, was posted to Saskatoon as half-time director of Sion House, the Canadian home for sick and elderly Sisters of Sion. The rest of the time she was a resource person in adult faith education for the Catholic Diocese of Saskatoon. She has also been very active in MultiFaith Saskatoon.
A few years ago, a Regina television company filmed a journalistic documentary highlighting Sister Kay's life and work. "For me, it was a major production," she says. "They took me to Jerusalem and Rome to film, as well as filming in Toronto and at Saskatoon House." The film has aired on CBC and is still being shown on the Vision Channel and SCN. It is also available at the Public Library.
"I think the most exciting event of my life has been the changes that occurred in religious life and in the relationship of the Catholic Church with other faiths following Vatican II. It changed my whole life radically, changed my daily living and my theological understanding, and very much changed my ministry. My faith has been deepened. So have my religious relationships inside and outside the church. I can say I now have inner and exterior freedom."