[From The Jewish Chronicle Online. Sir "Siggy," as he was fondly called, was the long-time patron of the International Council of Christians and Jews, of which the CCJR is the national member organization for the United States.]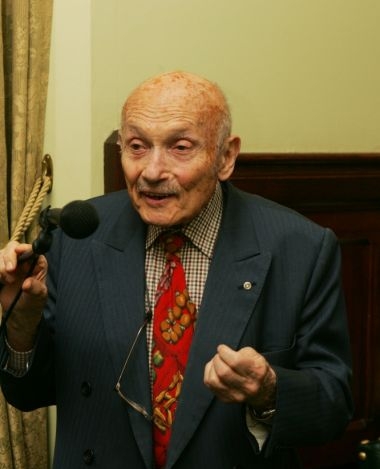 Sir Sigmund Sternberg, the renowned interfaith activist and philanthropist, has passed away at the age of ninety-five.
Sir Sigmund played a leading role in many key Jewish communal institutions. A member of the Board of Deputies for many years, he also chaired the International Council of Christians and Jews, as well as founding the Three Faiths Forum.
He was born in Hungary in 1921, arriving in Britain in 1939, just prior to World War Two. Entering the scrap metal trade, he built up his firm to such an extent over the next couple of decades that by 1965, in his early forties, he was able to retire from business and dedicate his time to charitable interests.
He received a knighthood from the Queen in 1976, followed by a Papal knighthood from Pope John Paul II in 1985, becoming, as far as he was aware, the only Jew to hold such an honour.
His work as a mediator with the Catholic church was well-documented. His most noted successes were over the removal of a highly controversial Carmelite convent set up in the grounds of Auschwitz, and the official recognition by the Vatican of Israel in 1994.
The long-time President of Reform Judaism, the Sternberg Centre in Finchley, where the movement for Reform Judaism is based, was named in his honour.
His wife, Lady Hazel Sternberg, predeceased him, passing away in 2014.