The 18th Annual Meeting of the CCJR will occur on Sunday, October 27 and Monday, October 28, 2019, hosted by the Institute for Jewish-Christian Understanding at Muhlenberg College in Allentown, Pennsylvania.
It will be held in conjunction with a conference at Muhlenberg College titled, "Passing the Word" to mark the 25th anniversary of the Evangelical Lutheran Church in America's "Declaration to the Jewish Community." The IJCU's annual Wallenberg Tribute and Dinner will be part of the festivities.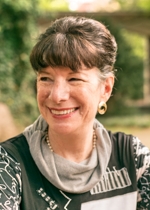 The CCJR Board of Directors is delighted to announce that the 2019 Shevet Achim Award for Outstanding Contributions to Christian-Jewish Relations will be awarded to Dr. Amy-Jill Levine of Vanderbilt University. Dr. Levine is University Professor of New Testament and Jewish Studies, Mary Jane Werthan Professor of Jewish Studies, and Professor of New Testament Studies at Vanderbilt Divinity School and College of Arts and Science. She is the author of many books and articles on New Testament studies and frequently their implications for relations between Jews and Christians today. Her books include The Misunderstood Jew: The Church and the Scandal of the Jewish Jesus; The Meaning of the Bible: What the Jewish Scriptures and the Christian Old Testament Can Teach Us (co-authored with Douglas Knight); The New Testament, Methods and Meanings (co-authored with Warren Carter), and the thirteen-volume edited Feminist Companions to the New Testament and Early Christian Writing. Her most recent volume is Short Stories by Jesus: The Enigmatic Parables of a Controversial Rabbi. She has also just written, with noted children's book author Sandy Eisenberg Sasso, Who Counts? 100 Sheep, Ten Coins, and Two Sons (a volume on the parables of Luke 15, designed for children). Dr. Levine is also the co-editor, with Marc Z. Brettler, of the Jewish Annotated New Testament, now in a second edition.
The CCJR conference will feature the following panels and presentations:
Comparative Theology and Christian-Jewish Relations

On Different Grounds: Jewish and Christian Understandings of the Middle East

Lutheran Liturgy and Jewish-Christian Relations

Doing Our Respective Theologies Together

The Evangelical Lutheran Church in America and Interreligious Relations in 2019

Challenges and Opportunities that Lie Ahead
For further details, please click on the "Meeting" link on the top navigation bar of the website.