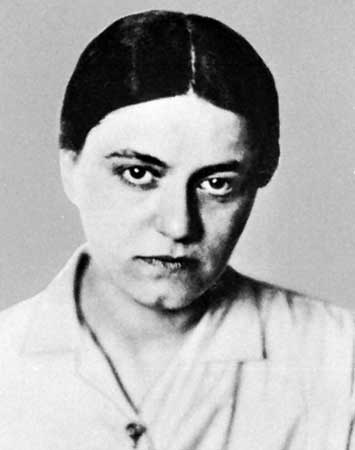 The following letter was sent by Dr. Edith Stein, then a noted German philosopher, to Pope Pius XI in April 1933. The April 20th date probably indicates the date of delivery. On April 19, she lost her lectureship at the German Institute for Scientific Pedagogy because of the "Law for the Restoration of the Professional Civil Service." This legislation, passed by the National Socialist regime on April 7, 1933, only two months after Adolf Hitler became chancellor, restricted Jewish employment rights by requiring "Aryan certification." Edith was Jewish by birth, and, after passing through a period of atheism in her teens, had been baptized a Catholic in 1922.

She entered the Discalced Carmelite monastery at Cologne in on October 14, 1933, taking the religious name of Teresa Benedicta of the Cross. As Nazi attacks on German Jews grew, her Order transferred her in 1938 to the Carmelite monastery in Echt in the Netherlands. On June 6, 1939 she wrote, "I beg the Lord to take my life and my death … for all concerns of the sacred hearts of Jesus and Mary and the holy church, especially for the preservation of our holy order, in particular the Carmelite monasteries of Cologne and Echt, as atonement for the unbelief of the Jewish People, and that the Lord will be received by his own people and his kingdom shall come in glory, for the salvation of Germany and the peace of the world, at last for my loved ones, living or dead, and for all God gave to me: that none of them shall go astray." Her self-sacrificing words here reflect the pervasive Christian view that Jews were destined to suffer until they accepted Christ.

After the Dutch bishops publicly condemned the racism of the Nazi occupiers of the Netherlands in July 1942, the Nazis retaliated by seizing Jewish converts whom they had previously left alone. Sr. Teresa was arrested on August 2, 1942 and deported to Auschwitz where she was gassed to death, probably on August 9th. She was canonized on August 11, 1998 by Pope John Paul II, who urged that on her feast day, "we must also remember the Shoah, that cruel plan to exterminate a people — a plan to which millions of our Jewish brothers and sisters fell victim."

Source: the website of the Carmelite Nuns of Baltimore.
---

Holy Father!
As a child of the Jewish people who, by the grace of God, for the past eleven years has also been a child of the Catholic Church, I dare to speak to the Father of Christianity about that which oppresses millions of Germans. For weeks we have seen deeds perpetrated in Germany which mock any sense of justice and humanity, not to mention love of neighbor. For years the leaders of National Socialism have been preaching hatred of the Jews. Now that they have seized the power of government and armed their followers, among them proven criminal elements, this seed of hatred has germinated. The government has only recently admitted that ex- cesses have occurred. To what extent, we cannot tell, because public opinion is being gagged. However, judging by what I have learned from personal relations, it is in no way a matter of singular exceptional cases. Under pressure from reactions abroad, the government has turned to "milder" methods. It has issued the watchword "no Jew shall have even one hair on his head harmed." But through boycott measures--by robbing people of their livelihood, civic honor and fatherland--it drives many to desperation; within the last week, through private reports I was informed of five cases of suicide as a consequence of these hostilities. I am convinced that this is a general condition which will claim many more victims. One may regret that these unhappy people do not have greater inner strength to bear their misfortune. But the responsibility must fall, after all, on those who brought them to this point and it also falls on those who keep silent in the face of such happenings.
Everything that happened and continues to happen on a daily basis originates with a government that calls itself "Christian." For weeks not only Jews but also thousands of faithful Catholics in Germany, and, I believe, all over the world, have been waiting and hoping for the Church of Christ to raise its voice to put a stop to this abuse of Christ's name. Is not this idolization of race and governmental power which is being pounded into the public consciousness by the radio open heresy? Isn't the effort to destroy Jewish blood an abuse of the holiest humanity of our Savior, of the most blessed Virgin and the apostles? Is not all this diametrically opposed to the conduct of our Lord and Savior, who, even on the cross, still prayed for his persecutors? And isn't this a black mark on the record of this Holy Year which was intended to be a year of peace and reconciliation?
We all, who are faithful children of the Church and who see the conditions in Germany with open eyes, fear the worst for the prestige of the Church, if the silence continues any longer. We are convinced that this silence will not be able in the long run to purchase peace with the present German government. For the time being, the fight against Catholicism will be conducted quietly and less brutally than against Jewry, but no less systematically. Before long no Catholic will be able to hold office in Germany unless he dedicates himself unconditionally to the new course of action.
At the feet of your Holiness, requesting your apostolic blessing,
(Signed) Dr. Edith Stein, Instructor at the German Institute for Scientific Pedagogy, Münster in Westphalia, Collegium Marianum.
[Later diary entry:
I know that my letter was received by the Holy Father. I never received a reply. I have often wondered since whether my letter might have come to his mind once in a while. For in the years that followed that which I had predicted for the future in Germany came true step by step. Dec 18, 1938]
In a letter dated December 19, 1938, she writes the she knew her letter had been handed sealed to the Pope, and that she received from him a personal blessing for her and her family, but no further result. She adds, "... I have often wondered since, whether my letter may sometimes have come to mind. For what I had predicted about the future of Catholics in Germany was fulfilled step by step in the following years." 25
Mary Catherine Baseheart, Person in the World: Introduction to the Philosophy of Edith Stein. Contributions to Phenomenology (Dordrecht, the Netherlands: Kluwer Academic Publishers, 2010), p. 26.