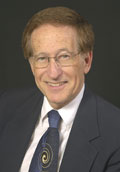 Rabbi Michael Cook, who identified and then fulfilled a need for Jewish rabbis to navigate a culture steeped in New Testament learning, has died. For decades as the Sol and Arlene Bronstein Professor of Judeo-Christian Studies at Hebrew Union College in Cincinnati campus, he taught a required New Testament course that became the basis of his book Modern Jews Engage the New Testament: Enhancing Jewish Well-Being in a Christian Environment (Jewish Lights, 2008).
"His influence on the Reform Movement and the Jewish and larger world coincided with a time in which American Jews faced challenges navigating the challenges of living in a predominantly Christian culture society due to burgeoning assimilation, intermarriage, conversion, blended families, antisemitism, missionizing, and interfaith debates over Israel advocacy," said Andrew Rehfeld, HUC's president. "Through his teaching and publications, he provided the infrastructure for significant Jewish-Christian dialogue by clergy, scholars, and laity that contributed greatly to interfaith understanding in North America and around the world."
Following his rabbinical ordination at HUC in New York in 1970, he entered the Ph.D. program at HUC in Cincinnati to study Intertestamental Literature with a concentration in New Testament with Dr. Samuel Sandmel. Years later, Dr. Sandmel encouraged him to become his successor and he remained at the HUC, becoming the only American rabbi with a full-professorial chair in New Testament.
When asked to describe his most meaningful experiences as a teacher and mentor to his students as part of the HUC campus community, Dr. Cook replied, "Having taught the New Testament on a graduate school and rabbinical seminary level for several decades, I realize that, by now, more than a thousand of my students have become educators, communal service leaders, and camp directors who are active in North America and abroad. From them continue to come testimonials as to how indispensable training in New Testament dynamics has been, enhancing the wellbeing of their constituents. Our graduates are better able to guide their constituents to live as Jews in a Christian environment, navigating through challenging issues such as intermarriage, blended families, Jews-by-Choice, ministerial associations, interfaith seders, pulpit exchanges, adjunct professorships at Christian colleges and seminaries, Jewish college-student identity, Hillel Directorships, military and hospital chaplaincies, antisemitism, missionizing, millennialism, Christian Zionism, interfaith debates over Israel advocacy, etc."
A friend of many members of the CCJR, his student, Rabbi Dr. David Fox Sandmel wrote that "Michael studied with my father, and I studied with Michael. He was a wonderful teacher - always well organized and prepared. And deeply committed to educating rabbis to be effective representatives in the community on matters of Jewish-Christian relations." Colleague Rabbi Ron Kronish said, "What a wonderful teacher and a real mentsch!" and another colleagues, Dr. Eugene Fisher called him "a major leader in the dialogue." Rabbi Cook also served on the committee of Catholic and Jewish scholars who evaluated a working screenplay of the film The Passion of the Christ in 2003-2004.
"It is my passionate hope that my career and my many students have had a powerful impact in allowing Jews to enhance their wellbeing simply by helping Christians realize that — far from being 'blind' — Jews have intelligible as well as intelligent reasons for processing the New Testament in their own way," he said.
Cook is survived by his wife, Rabbi Judy Chessin, five children and five grandchildren.