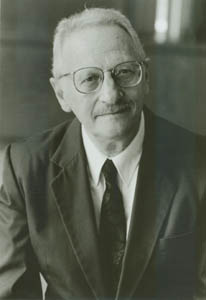 New York, NY, January 27, 2009 … The Anti-Defamation League (ADL) mourns the loss of Rabbi Leon Klenicki, the League's longtime Director of Interfaith Affairs and Co-Liaison to the Vatican. During his more than 30 years at ADL, Rabbi Klenicki worked tirelessly to promote understanding and respect between Christians and Jews while making historic contributions in creating positive relationships between the faiths.
A renowned scholar, theologian and interfaith pioneer, Rabbi Klenicki received many recognitions and awards for his work. In August 2007, Rabbi Klenicki was made a Papal Knight of the Order of St. Gregory the Great by Pope Benedict XVI, becoming only the second interfaith official to receive papal knighthood. Later that year he was recognized by the League for his lifetime of dedication and service to ADL and the Jewish community.
"It was truly fortunate and blessed to have Rabbi Leon Klenicki represent us as our Interfaith Affairs Director for a quarter of a century," said Abraham H. Foxman, ADL National Director. "He could talk to Jews and Christians with equal facility and ease. It was amazing to witness the depth of respect the Catholic leaders showed Rabbi Klenicki. This was because he was always honest with them, ready to criticize them when necessary, to praise them when appropriate, and always to be constructive in the relationship."
Following his retirement in January 2001, Rabbi Klenicki continued to write, lecture and teach. At Cambridge University, England, he taught a summer course on Jewish-Christian liturgy and worship. He lectured at the Graymoor Ecumenical & Interreligious Institute in New York and was a visiting professor at the Leuven Catholic University in Belgium, while serving as ADL's Director Emeritus of Interfaith Affairs.
A native of Argentina, Rabbi Klenicki began his schooling in Buenos Aires and studied philosophy and classics at the University of Buenos Aires. In 1959, he won a scholarship to study at the Hebrew Union College – Jewish Institute of Religion in Cincinnati, where he completed his rabbinical studies. He received a B.A. in Philosophy at the University of Cincinnati as well as a Master of Arts in Hebrew Letters and a rabbinical diploma at HUC-JIR in 1967.
In September 1967, Rabbi Klenicki returned to Buenos Aires, where he accepted the position of Director of the Latin American Office of the World Union for Progressive Judaism. Rabbi Klenicki helped develop Reform Judaism in Latin America and lectured widely at the main Latin American Jewish centers. He also served as an advisor on interfaith affairs for the DAIA, the main Jewish organization in Argentina. In 1968, Klenicki delivered a major paper representing the Jewish community at the first Latin American meeting of Jews and Catholics in Bogota, Colombia organized by ADL and the CELAM (Latin American Episcopal Conference) during the visit of Pope Paul XI to Colombia.
In 1969 he became the spiritual leader of Congregation Emanu-El in Buenos Aires, where he published a prayer book in Spanish and Hebrew – the first printed Reform Book of Prayers in Latin American adapted to the Argentinean Jewish experience. He also published a Haggadah for the celebration of Passover and co-edited the Reform version of the Mahsor, the prayer book for the High Holidays in Hebrew and Spanish.
In October 1973, Rabbi Klenicki joined ADL as head of the Jewish-Catholic Relations Department. He became Director of ADL's Department of Interfaith Affairs in 1984, and also served as ADL's Co-Liaison to the Vatican.
Rabbi Klenicki is the author and co-author of hundreds of books and papers dealing with the theological and practical aspects of improving relations between Catholics and Jews after nearly two millennia of tragedy. He was deeply committed to Judaism, the Jewish people and the state of Israel.
"Leon spoke of meeting Pope Benedict XVI when he was Cardinal Ratzinger," Mr. Foxman said. "He told the then-Cardinal about educational programs on early Christianity and rabbinic Judaism and the presentation of Jews and Judaism which sometimes have been misunderstood and misused to promote anti-Semitism. This was always a priority for Leon because he had understood the long-term impact of how biblical texts were interpreted."
The United States Conference of Catholic Bishops recommended to all U.S. bishops and cardinals that they observe Holocaust Memorial Day by using as a liturgy the service prepared by Rabbi Klenicki and Dr. Eugene J. Fisher, "From Desolation to Hope: An Interreligious Holocaust Memorial Service." In May 2001, Rabbi Klenicki was honored by the Holy See's Commission for Interreligious Relations with Judaism for his contributions to the interfaith dialogue.
He is survived by his wife, Myra Cohen Klenicki; his son, Daniel Klenicki; his daughter, Ruth Finkelstein; and his grandson, Eliyahu Finkelstein.