[Adapted from the Asbury Park News]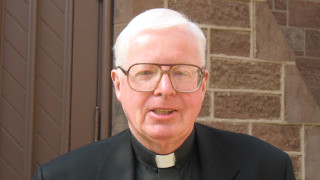 Rev. Dr. John Francis Morley, 83 of Wall Township passed away on Wednesday, April 8, 2020 at St. Catharine of Sienna Healthcare Care Center, Caldwell.
Born in Jersey City, Fr. John had graduated from St. Aloysius Grammar School, Seton Hall Prep, South Orange in 1954 as Valedictorian of his Class, Seton Hall University in 1956 and Immaculate Conception Seminary in June 1958 with an A.B in Classical Studies. He then went on to study theology at the American College, the Catholic University of Louvain, Belgium graduating in June 1962 with an S.T.B. and M.A in Religious Education. He went on to receive a Ph.D., New York University in June 1979 in Jewish Studies.
He was an Associate Professor in the Department of Religious Studies at Seton Hall University, where he was awarded the McQuaid Medal in 1991, the Humanitarian of the Year on April 14, 2002, and the Rose Thering Endowment.
He was known in particular for his work in Holocaust studies. In October 1999, he was appointed by Cardinal Edward Cassidy, President of the Holy See's Commission for Religious Relations with the Jews in October 1999, to be one of the three Catholic members of a joint Catholic-Jewish group of Scholars whose task was to review published Vatican documents on the Holocaust. He was a member of the Church Relations and Holocaust Committee of the U.S. Holocaust Memorial Museum in Washington D.C.
Dr. Alan Berger of the Center for the Study of Values and Violence after Auschwitz lamented Fr. Morley's passing, saying, "His was a light that shone very brightly."