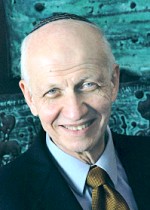 Irving Greenberg is a Modern Orthodox rabbi, scholar and author. He is known as a strong promoter of greater understanding between Judaism and Christianity.
Rabbi Greenberg was ordained at Yeshiva Beis Yosef. He earned a PhD. from Harvard University and served as the Jewish chaplain of Brandeis University, the rabbi of the Riverdale Jewish Center, an associate professor of history at Yeshiva University, and as a founder, chairman, and professor in the department of Jewish studies of the City College of the City University of New York. He has also served as the President of the National Jewish Center for Learning and Leadership.
Rabbi Greenberg's thought involves a dynamic reading of current Jewish history through use of traditional Jewish categories of thought. He has written extensively about covenantal theology, the Holocaust and the historical and religious significance of the State of Israel. The author of numerous publications, his most recent books are: Covenantal Pluralism (1997); Living in the Image of God: Jewish Teachings to Perfect the World (1998); and For the Sake of Heaven and Earth: The New Encounter Between Judaism and Christianity (2004).