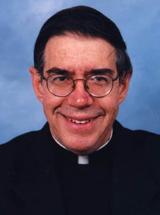 Fr. Lawrence Boadt's untimely death is a loss for so many of us across the spectrum of not only Catholics but Jews as well. I have known him as a colleague and as a friend for many years, as an editor for Paulist Press, eager to publish books furthering the cause of Catholic-Jewish relations, my own included, and as a neighbor when he was at the Paulist College across the road from where I worked at the U.S. Conference of Catholic Bishops. One normally notes the wit and wisdom of a friend and colleague when they pass, but in this case that would be an understatement.
Larry Boadt excelled. There is no other word for it. His book on Sacred Scripture, Reading the Old Testament: An Introduction, became a classic in the field and was used in countless seminaries and theology programs at universities. It incorporated the best not only of biblical scholarship but of the critical scholarship of the Jewish-Catholic dialogue, thus putting into reality the great vision of the Second Vatican Council on the renewal of dialogue between the Church, as the People of God, and the Jewish People, as the original and still present People of God.
I spent much time with my good friend, Larry, while he was in Washington: meals shared, dialogues attended together, phone conversations in which we learned from each other. When he moved to New York, well, Mahwah, New Jersey, a part of me moved with him. And he continued as editor of Paulist Press to ensure that high quality books in the field that did not exist when he and I went to college, would be published. For this reason alone, all Catholics and all Jews involved in or interested in this most historic of dialogues, must enter a note of praise and thanksgiving into the book of life.
May Larry rest in Peace,
And may his name be for a blessing.
Dr. Eugene J. Fisher
Retired, Associate Director,
Secretariat for Ecumenical and Interreligious Affairs
U.S. Conference of Catholic Bishops