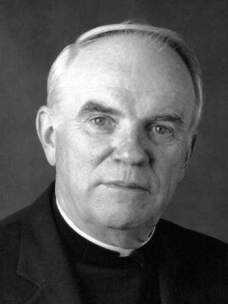 From LoHud.com
NEW ROCHELLE — Brother John G. Driscoll, who re-created Iona College as a high-profile Catholic college during a 24-year tenure as president before becoming an international leader in Christian-Jewish relations, died Tuesday evening after a long illness. He was 77.
Driscoll, a New York City native and mathematician by training, became president of Iona in 1971.
During his tenure, he expanded and modernized Iona's campus, grew the student body, and lobbied in Albany for education aid for private colleges and students.
He built new athletic facilities, expanded women's athletics and made Iona's sports teams more competitive.
"He took Iona when it was a small commuter college and began a residential program, created opportunities for faculty, built facilities," Liguori said. "He was a dynamo and a pastoral leader."
During a difficult financial period for Catholic colleges in the early 1990s, Driscoll closed Iona's Yonkers campus.
"It will always be a pain in my heart," he said then.
Driscoll was a member of the Congregation for Christian Brothers, the Roman Catholic religious community that founded Iona in 1940.
He was beloved by many in and around New Rochelle for the pastoral interest he showed for anyone in need, said William O'Shaughnessy, president of New Rochelle-based Whitney Radio. Driscoll would leave notes and messages of hope for people going through tough times, he said.
"He was a magnificent soul, a monumental person," O'Shaughnessy said. "All the townies loved him. I don't use the word often, but I think he was saintly."
After his retirement from Iona, Driscoll turned an interest in Jewish history and theology into a second career. He moved to Jerusalem and studied the Hebrew language and Jewish understanding of what Christians call the Old Testament.
Driscoll became a faculty member at the Bat Kol Institute in Jerusalem, where Christian scholars study Jewish traditions, and a scholar-in-residence at Hebrew University. He traveled the world — South Africa, India, Australia, Ireland — to teach Christians what he had learned about the Torah from a Jewish point of view.
"Brother Driscoll believed that it is essential for Christians to understand their roots in Judaism," said Elena Procario-Foley, who has held the Driscoll professorship since 1999, leading numerous programs about Christian-Jewish relations at Iona.
"He traveled the world to teach Christians what he learned, and became a major figure in Jewish-Christian studies," she said.
Driscoll visited her classes several times in recent years after his health prevented him from traveling.
"I would introduce him to students and say that our mission statement for the college talks about preparing students who will be lifelong learners," Procario-Foley said. "Here was a man who was a lifelong learner."
Deborah Weissman, president of the International Council of Christians and Jews, described Driscoll on Wednesday as a "beacon to us all" in a letter from Jerusalem to Procario-Foley.
Weissman wrote it was fitting to be thinking of Driscoll on the eve of the Jewish holiday Sukkot, during which Jews gather in a sukkah — or temporary dwelling — to remember the 40 years of wandering in the desert.
"The Sukkah is a multilayered symbol, of the fragility and transience of human life, but also of God's providence and the need for human beings to make the most of our lives on Earth," Weissman wrote. "Jack certainly did that."
A funeral Mass will be held at 9:30 a.m. Monday at Holy Family Church, 83 Clove Road, New Rochelle.
Donations in Driscoll's memory may be sent to The Br. John G. Driscoll Fund, Iona College, 715 North Ave., New Rochelle, NY 10801, or to St. Joseph's Care Center, 30 Montgomery Circle, New Rochelle, NY 10805.