Obituary from The Jewish Exponent, November 26, 2014 By: Michael Elkin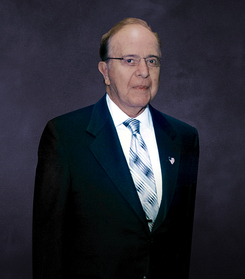 Irvin J. Borowsky, a pioneering publishing magnate whose insightful and creative industry contributions included the founding of the precursor to
TV Guide
, and whose concerns for ecumenical harmony and tolerance led him to play a major international role in interreligious cooperation and education, died Nov. 25, just two days after turning 90.
In many ways, the native Philadelphian — the youngest of nine children — was a Renaissance man with a global impact on religion and the arts, combining interest in his Jewish heritage and its image around the world.
A former president of the
Jewish Exponent
as well as longtime leader in numerous roles with the Jewish Federation of Greater Philadelphia — at the time of his death, he was an honorary member of the Federation's Board of Trustees — Borowsky funded many Federation programs, namely the Mitzvah Food Project, which received aid through the Borowsky Family Foundation.

He also founded the National Liberty Museum in Philadelphia in 2000, a testament to his determination to fight bigotry and teach tolerance.

But his concerns went far beyond the Philadelphia region. Indeed, interfaith understanding was an issue he fervently pursued. He published 19 books on interreligious interests at North American Publishing Company, which he founded in 1953 right after he sold the precursor to TV Guide to Walter Annenberg. The publication Borowsky had created was a major player in the nascent and then-evolving television industry.

Borowsky's commitment to fighting anti-Semitism wherever it occurred was legendary. To that end, he founded the American Interfaith Institute 32 years ago to work toward excising anti-Semitic phrases from the New Testament in the hope that inaccuracies deleted would enhance better understanding between Jews and non-Jews.

His efforts culminated in the publishing of the Contemporary English Version of the New Testament by the American Bible Society, which was the first such version not to depict Jews as the driving force behind the crucifixion of Jesus.

"He was a visionary whose ideas about religious tolerance are displayed at the National Liberty Museum," says Sherrie R. Savett, a board member of the museum and immediate past president of the Jewish Federation.

His concerns and influence extended to the basic freedoms of humanity he considered key to an educated and compassionate citizenry, major forces behind his founding the museum.

"Many examples of the heroes exhibited at the museum are Jewish, like Anne Frank, or priests and diplomats who supported Jews during the Holocaust," adds Savett, who was recruited for her role on the museum board by Borowsky after meeting him at a display of his glass collection at the Gershman Y, where a gallery is named in his honor.

Harold Berger, a former judge of the Court of Common Pleas of Philadelphia, was a longtime friend of Borowsky, who recalls that he respected him "from the beginning; he worked himself up from his bootstraps and was always interested in Jewish activities and fought anti-Semitism his entire life."

Berger was not alone in the respect he accorded Borowsky. It came not just from Jewish agencies and their members but from such groups as the Salvation Army, one of many groups that honored Borowsky over the years and one he was committed to helping.

"What I always remembered about Irv was that he was never afraid to take on a campaign, even if it meant doing so by himself. He was a great leader of the Jewish community," adds Berger.

Many took note of Borowsky's dynamic presence and knowledge. He was a member of the American Academy of Religion as well as the Society of Biblical Literature, and was an in-demand speaker and commentator for his insightfulness into ecumenical cooperation. Earlier this year, he received an honorary doctorate from Drexel University.

His passions also included the arts, notably the aforementioned glass sculptures, which adorned his home in Center City. His abiding interest in glass led to the establishment of the Borowsky Center of Glass Art at Temple University's Tyler School of Art as well as the Borowsky Glass Studios at the University of the Arts, where the highly competitive Borowsky Glass Prize is awarded annually.

He was also a major supporter of Israel, not only through his work at the Jewish Federation but also in his pursuit to build bridges between peoples. His multiple visits to the Jewish state over the years included meetings with some of that nation's key movers and shakers. Indeed, he spearheaded a mission to the Jewish state in 1992, bringing close to 1,000 Evangelical Christians to tour and interface with the country's national leaders.

Those who knew him considered Borowsky a strong presence in so many fields, undaunted by what appeared to be failing health in recent years. "I thought of him as a 'forever man,' who would always be with us," says his wife of 36 years, Laurie Wagman, his "sidekick" in so many of his ventures, including the $1 million gift to the Tyler School for its glass center.

"His influence was quite huge in the worlds of Judaica, education, music and the arts — and it was a hands-on influence," says Wagman, founder/director of the American Theater Arts for Youth.

In a way, it all started with a $5 printing press, which the then 12-year-old Borowsky bought, responding to an ad in Popular Mechanics. That purchase proved a powerful harbinger: Two years later, the teen was running his own printing press, City Wide Press; and much later, through his Foster Manufacturing Company, Borowsky helped redesign the advertising departments for a host of national newspapers, including The Washington Post and The Philadelphia Inquirer.

Over the many years at NAPCO, he published scores of magazines, including Sailing World and CUE, the New York City arts magazine that he purchased 50 years ago. Eventually Borowsky left the business to concentrate on philanthropic and interreligious issues, turning the company over to his son, Ned.

Ned is part of what Wagman describes as one of her late husband's most notable achievements: "He created a unified family," she says of their blended families from previous marriages.

In addition to his wife and son Ned, he is survived by three daughters, Gwen Borowsky, Michele Sokoloff and Andrea Wagman Christian; two sons, Ted and Scott; two sisters, Bea Peskin and Charlotte Keil; and 13 grandchildren.