[Adapted from the Seton Hall University website.]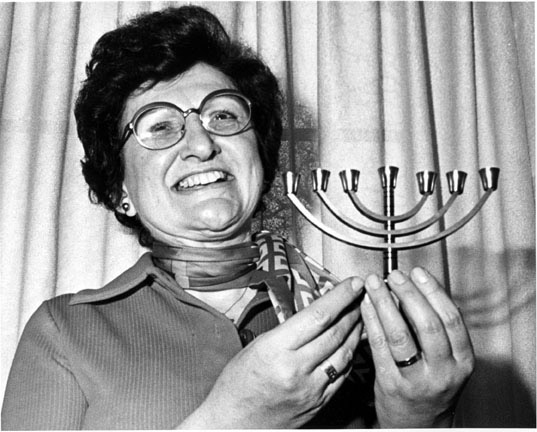 Born August 9 in 1920 to second-generation German Catholic parents in Plain, Wisconsin, Rose Elizabeth Thering grew up on a dairy farm. The family prayed together three times a day and sent 11 children to Catholic schools. From humble beginnings, her life traveled a distinct, yet distinguished, path. She would come to share the spotlight with world leaders and celebrities — and stand with victims in the shadow of oppression.
At the age of 16, Sister Rose joined the religious community of the Sisters of St. Dominic, and, following her profession as a sister, she began to teach. "There were no Jews where I grew up," Sister Rose once said. "I only knew them from what we read in our religious text books." The message of intolerance toward the Jews she learned unsettled her. Many pre-Vatican II religious texts portrayed Jews as the people who killed Jesus. After many years of teaching in elementary and high schools, where she continued to find anti-Jewish references in Catholic school texts, Sister Rose decided to continue her own education to benefit others. A graduate of Dominican College in Racine, Wisconsin, she earned a Doctor of Philosophy from St. Louis University and master's degrees from the College of St. Thomas in St. Paul, Minnesota, and Seton Hall University.
At St. Louis University, her dissertation was devoted to the Catholic Church's teachings about Jews and other religions. Her doctoral research culminated in 1961 with an examination of how Catholic teaching materials dealt with ethnic groups and other faiths, primarily Jews and Judaism. Her research contributed to the deliberations during Vatican II before the issuance of the Vatican document Nostra Aetate (1965), a declaration on the relation of the Church to non-Christian religions.
Sister Rose came to Seton Hall University in 1968 to establish an educational outreach program, known then as the Menorah Studies Program, for Seton Hall's Institute of Judaeo-Christian Studies then under the direction of Monsignor John M. Oesterreicher. "Sister Rose was a champion of opening doors between Christians and Jews," said Monsignor Robert Sheeran, president of Seton Hall University. "For a half-century she was an uncommon, inspired voice of reconciliation and dialogue among Christians and Jews. Her support for the nation of Israel, her determination to root out anti-Semitism wherever it exists, and her commitment to educating new generations about the evils of the Holocaust form her lasting legacy."
In 1972, Sister Rose planned and directed the Menorah Institute to Israel, sponsored by Seton Hall's Institute of Judaeo-Christian Studies. It was the first of more than 50 excursions to Israel that she planned and directed on behalf of the University and other organizations. Her activism on behalf of Holocaust survivors and oppressed Jews throughout the world led her to Austria to protest the inauguration of Kurt Waldheim, thought to be a former Nazi, as its president. In 1987, Sister Rose traveled to the Soviet Union to visit 22 refusenik families in a show of solidarity before glasnost secured the freedom of Soviet Jews.
Sister Rose was a tireless lecturer, speaking throughout New Jersey and the nation, making lay people aware of the tenets of Judaism and Catholicism and helping to eradicate intolerance. She earned more than 80 humanitarian awards, including the Anti-Defamation League's Cardinal Bea Interfaith Award (2004), where she was honored as the first woman to receive the award, and the prestigious Jerusalem Award (1987), which was presented to her by Teddy Kollek, Jerusalem's former mayor, after she testified before the Senate Foreign Relations Committee in support of a bill that would move the U.S. embassy from Tel Aviv to Jerusalem
Sister Rose shared her unique life story with the world in 2004 through Sister Rose's Passion, a 39-minute documentary film that chronicles her career's dedication to reconciling Jews and Christians through education on the evils of anti-Semitism. The documentary, produced by Peter LeDonne and Steve Kalafer, an Academy Award-nominated team, was directed by Oren Jacoby, who has produced and directed films for the BBC, ABC, PBS, National Geographic and the Discovery Channel. The film was the brainchild of Risa Goldstein, a friend of Kalafer's and a South Orange resident whose father had taken classes in Seton Hall University's Graduate Department of Jewish-Christian Studies. After winning the Best Documentary Short at the Tribeca Film Festival in New York City in 2004, Sister Rose's Passion was nominated in 2005 for an Academy Award.
In August 1992, the University established the Sister Rose Thering Endowment for Jewish-Christian Studies. The Endowment builds on the inter-faith education work of Sister Rose by providing scholarship assistance for teachers in graduate-level Jewish-Christian and Holocaust Studies, developing curriculum resources and presenting workshops for teachers in public, private and parochial schools. School teachers are an important audience for the Endowment because in addition to New Jersey, only four other states – New York, Illinois, California and Florida – have mandates to teach about the Holocaust, though several other states officially recommend Holocaust education. Of the five, New Jersey is the only one requiring Holocaust or genocide education at all grade levels. More than 350 teachers and an estimated 150,000 students throughout New Jersey have benefited from the Endowment since its inception.